2023 – 2025 Poet Laureate Press Release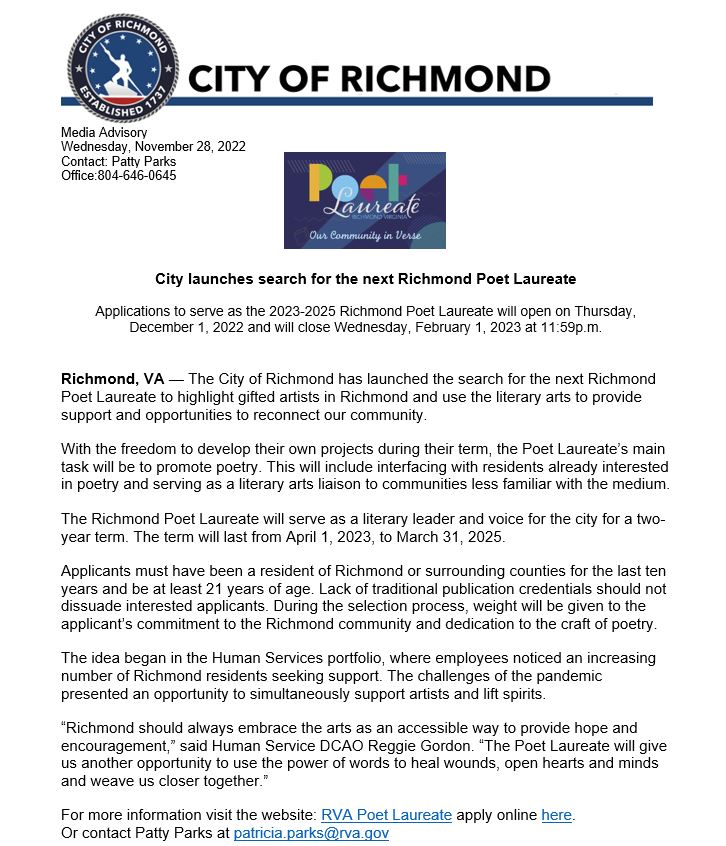 2021 Poet Laureate
April 13

Sacramento Poetry Salon – Young Laureates Interview Series
Young Laureates Episode 3: Douglas Powell aka Roscoe Burnems (Richmond, VA Poet Laureate)
Click here to watch the full panel.
It's National Poetry Month! The Young Laureates interview series is hosted by the Sacramento Poetry Salon and introduces diverse, new voices of poetry across city, state, and country. This episode features Sacramento Poet Laureate Andru Defeye interviewing Richmond, Virginia Poet Laureate Douglas Powell aka Roscoe Burnems.
Feb. 17
RPS – Black History at Home Honoring the Legacy & Celebrating the Future of the African American Community in Richmond.
In recognition of Black History Month, join Superintendent Kamras for this special segment of RPS Live!

Posted by Richmond Public Schools on Wednesday, February 17, 2021
Panel discussion with: Tamara Copeland, author; Mad Skillz Hip hop Artist; Roscoe Burnems, Richmond's First Poet Laureate.
Moderator: Ma'asehyahu Isra-UI, Instructional Specialist with Questions by students.
Jan 16, 2021
Reginald Gordon introduces Richmond's First Poet Laureate, Roscoe Burnems, during the Poe Museum's Poe Birthday Bash 2021.